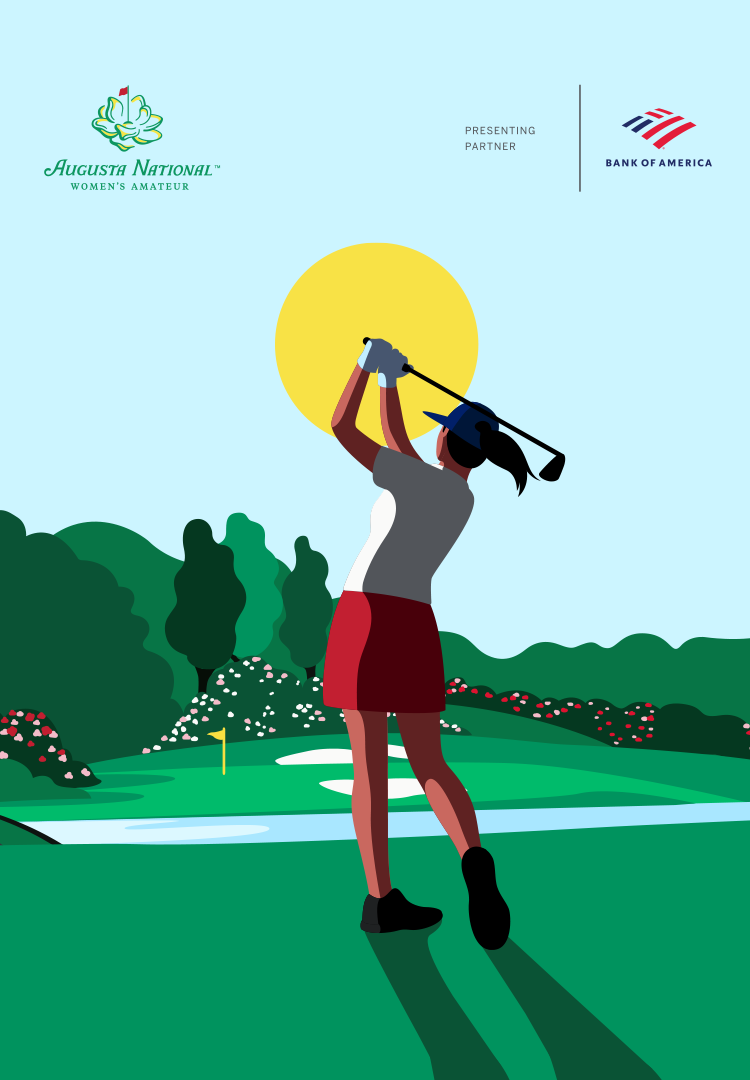 Celebrating female accomplishment
Discover how our partnership with the Augusta National Women's Amateur works to spotlight female accomplishment both on and off the course.
Inspiring the next generation
Augusta National Golf Club is changing the game to spotlight female triumph. Bank of America believes that a single swing can inspire an entire generation and is proud to support the Augusta National Women's Amateur in their efforts to provide more pathways and visibility for women's progress. Triumph was on full display in Augusta, Georgia, from March 31st to April 3rd. An international field of women amateurs competed over 54 holes of stroke play, making history on the iconic course.
Maria Taylor

Hello everyone, and a big virtual welcome to Driving the Game Forward. My name is Maria Taylor. I am a host and reporter for ESPN, and I've worked with every single sport from professional football and basketball to college football. But I must say that the sports that I love the most are the women's games, and so I'm so thankful that we could be here to celebrate, uplift, empower, and talk about the things that are affecting women in the corporate world and in sports, because I believe that sports builds confidence in women to go and take on any obstacle that might come in their way. Now, we are also here to celebrate the second annual Augusta National Women's Amateur, which tees off tomorrow. It's a great way to end Women's History Month, and we're so excited to be here and share this special conversation.

Maria Taylor

Now, it was established by the world-renown Augusta National Golf Club to inspire greater interest, participation in the women's game by creating new pathways to fulfill dreams of women and girl golfers all around the world. Now, last year obviously it was canceled due to COVID, but that's okay. That just means that we are even more excited about this year it taking place. We wanted to celebrate this moment in a very special way, and we wanted to drive the game forward by having this conversation and embracing women and girls everywhere. So I'm so thankful for the three women that will be joining me here today to have the conversation. So let's get to it. Let's introduce you to them. We start with Jennifer Kupcho. The champ is here. She is the reigning champion of the Augusta National Women's Amateur. She won it in 2019 and she went from being ranked number one, the number one amateur player in the world to winning that in 2019.

Maria Taylor

That is huge. And she also has a great story to tell about her journey to finding golf, falling in love with the sport, and what it's been like for her. And also everything that she's overcome to be here with us. Also joining Jennifer we've got Shasta Averyhardt. It's going to be great to hear from Shasta because she dominated the amateur levels but she also won championships at an HBCU, historically black college, Jackson State University. Many championships there. She took a break and actually she went pro in 2011, and she became just the fourth African American woman during an LPGA tour status. Then she took the break and she worked in financial services for PricewaterhouseCoopers because she's just as dope on the course as she is in the corporate world. But now she also works closely with an organization called Women of Color Golf to help increase diversity.

Maria Taylor

And we're going to have a great conversation about the ways that we can work to help increase diversity. And last but not least, it's Andrea Smith. She is Bank of America's chief administrative officer and just one of three women on the PGA of America board of directors. Now, she obviously helps lead Bank of America's global functions and businesses that drive responsible growth, operational excellence, and customer focused strategies. And as one of the most powerful women in banking, yes, hold that up for us, she's paved the way in a very male-dominated field but she's done it while also lifting up others, being a champion for women. And obviously that, coupled with her passion for the golf game, makes her the perfect panelists for this incredible conversation.

Maria Taylor

So ladies, thank you so much for joining us here. We're going to have a great conversation. And Jennifer, I've got to start with you because you are the reigning champ. Let's go back to 2019 when you're on the back nine. You're competing against Maria Fassi and we're all watching. And it seems as though it's a competition, but there's also a lot of comradery there between two women. What did that moment mean for you? What do you think it meant for girls and women that were watching all over the world?

Jennifer Kupcho

That moment just meant so much to me. Honestly, to walk the fairways and be alongside Maria the whole day. We came into the event friends and we came out of it even better friends. And I'm glad the whole world got to watch and see that women do tend to have a lot of close friendships out on the golf course. And I think that's one of the biggest things that came out of it, is just showing the whole world, everyone that was watching, not only that, Oh, we're playing Augusta, this famous golf course, but also the fact that we were having so much fun doing it and we're playing just as well as men can play the game.

Maria Taylor

Well, I've got to tell you, it was something incredible to sit back and watch. And I was low key cheering you on from afar. So again, congratulations. And that just builds the excitement for what we're going to see this year. And Shasta, I want to hear from you because obviously the Augusta Women's National Amateur, it is a big deal for girls that are home watching it. But what do all the related programming, everything that surrounds this initiative, that surrounds this event... How would you say the impact, you're already seeing it now in young girls?

Shasta Averyhardt

Just the fact that it's on NBC Sports during primetime hours. And, I mean, that's just incredible, I think, to have the top young female players playing at the highest level at the best course, I would say, in the country. And to be able to just feel respected and valued for the game that they have. They have amazing games and everyone was able to see that. And I really enjoyed watching it myself. And I felt like I was in a major championship. And, I think it has to be really incredible for these young ladies to receive a personalized invitation to go play Augusta National given the women's membership history in the past. And so I just think that was the best decision, and that's a step in the right direction. And hopefully there'll be an LPGA event there sooner than later, right?

Maria Taylor

Yeah, absolutely. And I can't imagine what it would've meant for a young Jennifer or a young Shasta to be able to see the same event that they're now getting the opportunities to compete in when they were seven years old. So imagine the impact that we're going to see in the years and decades to come. I have to ask you guys, though, about the way COVID-19 has impacted golfers, because obviously courses were closed throughout last year. You're trying to find ways to continue to develop your skills and continue to grow the game. How did you guys handle that? What is the impact from being forced to put down the passion for a little bit and have to focus on something else as we all deal with the global pandemic? And Jennifer, I'll start with you.

Jennifer Kupcho

Yeah. I definitely faced a lot of challenges. First off, right at the beginning of COVID I had moved to Arizona. And that's a struggle. You don't really have friends or anything. So I actually was able to really lean on golf a lot, and that really helped me to make friends and feel comfortable.

Jennifer Kupcho

But then also, there was a ton of time off the golf course, and I was able to take up activities, cooking, that I didn't normally do. I just found a lot of hobbies, being able to make myself comfortable. And I think that's one of the biggest things and struggles for everyone during COVID-19 was to have to find something else to do when pretty much your whole world has been flipped upside down.

Maria Taylor

Jennifer, I'm not going to let it slide. What did you learn to cook? You have to tell everyone.

Jennifer Kupcho

Honestly, everything. I think the biggest thing is I never knew how to cook chicken or steak or anything like that. So just the normal meals. I mean, I'm 23. What do you expect?

Maria Taylor

We'll let it go because you're a pro athlete and obviously you got to focus a lot on the game. Shasta, what about you? What was the impact of COVID-19 on you and your game?

Shasta Averyhardt

I was actually getting ready to fly out to Monday qualify. I believe it might've been the Kia Classic and Mike Whan had announced that the tour was going to be suspended for a while. So I think that was really tough because I had get my game together. I was just ready to go. So it was hard to stay motivated to continue to practice for months in when you're really not knowing what the status was, if we were going to be able to play this year. I went to the golf course every other day. I did a lot of biking. I did some cooking as well, a lot of eating, working out and I was just really anxious for the season to start. I also did a lot of FaceTime calls and then caught up with a lot of friends. So it was, I'd say pretty busy, right?

Maria Taylor

Absolutely. Andrea, I want to bring you in here because obviously we're hearing from these two young ladies about the obstacles that they overcome, but it takes commitment from companies and individuals that really want to pour into women's athletics, that want to pour into women professional athletes and Bank of America is one of five presenting sponsors of the Augusta National Women's Amateur. And that is absolutely huge, but it obviously aligns with the core values that you guys have at Bank of America. What was the motivation to come together and make sure that you were a part of this momentous event and putting your support and your weight behind it? Because it's important.

Andrea Smith

Well, thanks for having us, Maria. It's an honor to be with Shasta and Jennifer as well. Before I answer that question, Jennifer, I do want to tell you that after you won and we were following you a couple of years ago, I have a 16 year old daughter now who was 14 at the time. And one of our favorite things to do was go get colored strings in our hair, sparkly hair we'd call it, and Jennifer, you had that in when you were in your interviews. My daughter was like, "Mom, look at Jennifer. She's got sparkling hair too." I said, "Oh, this is fabulous." I'm telling you, the impact is far reaching.

Andrea Smith

But the reason that we wanted to support Augusta National Women's Amateur is because we have a long history of supporting, promoting and empowering women. The reason that I joined the PGA of America board when Susie Whaley was president and asked me to was because the commitment she had and we have is to change the face of golf. So we couldn't think of a better way for Bank of America to be a partner than to help promote women's golf just as we've promoted women inside of banking. Both, I would say, have been really male dominated over time. And we see people cracking these glass ceilings on the business side and in the sport side, and I think together we can make so much progress.

Maria Taylor

You mentioned the glass ceiling. Let's talk about cracking it, Andrea, because you are the queen of it if we're really being honest. You've certainly done it on the corporate side. But as I mentioned in your intro, you're just one of three women that sit on the board of PGA of America. And just talk to us about maybe some of the obstacles that you face. There's always an internal struggle. I work in the field of sports and a lot of time, I'm the only woman in the room and you're constantly having a conversation with yourself or trying to build your confidence up to ask for promotions and moving on. And I just wonder how you've dealt with it, how you've been able to become so successful in the male dominated field of finance.

Andrea Smith

Well, I'm so much older than everyone on this call. I've been at the Bank almost 33 years, which is longer than probably everyone else has been alive. But in being here that long, I have seen so much change. So if we go back to when I started my career at the bank in 1988, there was zero women at the top of the house. Zero women reporting to the CEO. Zero women on the board. Zero women anywhere you can see. It could be intimidating. I've always been tall. And I try to use that to my advantage going into a room, taking a seat at the table, being courageous and that little voice inside my head saying, "You got this, girl. You can do it. Just prepared to use your voice."

Andrea Smith

And then along the way, you find mentors and allies, and guess what? We need men to help us be successful. And that's something that I think we've learned across multiple, whether it's sports or business or whatever. So I have some great mentors and teachers. I'm happy to say today, I'm one of six women that report to the CEO of Bank of America. We have that many women on our board. We have people of color. So it is changing.

Andrea Smith

One of the things, Maria, that I think is really important, and I tell women all the time, when you are invited to a meeting, take a seat at the table and make room for someone else. Don't sit against the wall. Don't think that you don't deserve to sit at the table. Go to the table. If you're in the meeting, you're there for a reason. And it's little things like that that give you the confidence, I think, and the courage to keep pushing forward. I'm proud of the progress we've made in banking. I'm proud of the progress we're making in golf, but we've got a lot more to do. And I'm very aware of that and the bank's commitment to ANWA, to women, to developing leaders that are women. I think you can see it across the board. We also just announced a $1 billion announcement for racial equality. I mean, there's a lot that we need to do in our country right now. And the way I see it, it's all coming together and we can have a huge impact there.

Maria Taylor

Yeah. And I love that message too, Andrea, of lifting as you climb, making more room at the table as you sit there. And I was actually one when you started at Bank of America. So yes, we were already born. And I totally understand that being tall. I'm 6'2" and it's the same thing. You're trying to build that confidence and have those conversations. And we're thankful for you and all you've been able to do at your time with Bank of America.

Maria Taylor

Let's go back to the golf game, Shasta. I want to start with you because you picked up a golf club when you were seven or that's when you started to fall in love with the game. I am so curious about the journey and how that happens to a young girl from Detroit, and who are the role models and people that you looked up to during your golf journey?

Shasta Averyhardt

My dad is an avid golfer, so he was the one that got me involved with golf. He was in politics. So it was really a stressful career he was enduring. So his outlet was golf. And when he would take me to the golf course, I was just running around with a putter in my hand. And eventually someone at the course gave him a cutdown set of golf clubs. And it was all pink set, like all pink grip, pink bag, pink tees, head covers, all of that. So obviously I was automatically drawn to it. We would just go to a park initially, and I would just hit shots like 50 yards and just trying to get the technique. And he would always be like, "Watch Daddy." And I would just kind of mimic what he was doing. And we just kind of went from there, and the interest just kept growing and growing.

Shasta Averyhardt

Soon he put me into the Flint junior golf program and the Flint inner city golf program, and it took off from there. I was just so excited and to be amongst other peers and learning the game. To me, I felt like it took a while for me to really understand what golf was, but I just had fun doing it. I kept doing it and we still practice together. Eventually as I picked up volleyball, I was like, well, I'll be a two sport athlete, but I want to take golf serious. So my freshman year of high school, I was like, "Dad, I need you to put me with a pro. I need a swing coach, as far as you can advance me." Right? So I just started taking lessons and getting really serious about it.

Shasta Averyhardt

And then my scores just dropped, and I was never a member at a country club. I was always at a public golf course. We had a lot of nice courses in the area. So I definitely made that work. And growing up, there was only maybe one other young girl that was... She was a Black girl and we played golf together. Everyone else... It was very Caucasian dominated area in Flint. So all the kids were really nice though. I didn't have any issues in regards to some of the things that maybe someone in other areas have experienced. Right? I would say that my experience has been really positive and we always got a lot of questions about like, where are you guys from? How long have you been playing? And it was just those common questions, right? Just curiosity.

Shasta Averyhardt

At this point now in my journey, I've had a lot of female role models, a lot of professional women that I just look up to that I've been able to communicate with. So it's really hard to pinpoint one to two. It's been many, and they've all been a part of my journey. And a lot of them I still keep in contact with. I just really admire women that really take on that responsibility to be a role model and to be a leader. It's really nice, a woman like myself to be able to have that opportunity to experience that.

Maria Taylor

Yeah. I can only imagine as you grow up and you're finding the role models. And I have to ask you, going to an HBCU and Jackson State, like you said, on the golf courses when you were in Flint, a lot of times you were dominated by Caucasian players, but when you go to an HBCU, what was the impact of that on you? Because a lot of focus and attention has been going now to HBCUs and their ability to put out great products just like you, Shasta, a professional golfer.

Shasta Averyhardt

Yeah. Growing up in Michigan, it's completely different going to school down South and that was a huge adjustment for me. Everything was really just real mellow and a slower pace. And so, being down there, our team actually played a lot of schools outside of the SWAT Conference. And so when we're traveling to tournaments, everything looked pretty normal to me. There was all types of nationality of players and we're all paired together, everyone's real kind. And we're all just enjoying the college experience. And I think down there was when I really developed my game because I was able to play there all year round and now with being a product of the HBCU, the wave, the HBCU wave that's been happening right now is just so gratifying to see because there are really talented athletes that come out of HBCUs and it's really just about being able to have those resources and opportunities to be able to put your talents out there to the world. And I'm really happy that this is now happening for HBCUs

Maria Taylor

Well, one thing I have to get to with golf and one reason why I know that it's the most difficult sport that exists, period, is because the mentality that you both have to have you and Jennifer is incredible. The way that you have to forget the last shot or be able to move forward, the mental fortitude that it takes is a lot. And Jennifer, you were a champion. How would you describe roadblocks or obstacles that you've had to overcome on your way to making it to the level now that you can currently compete at?

Jennifer Kupcho

Yeah. Growing up, I had so many different roadblocks, just from the start. My parents did play golf and that's kind of how I got into it was I have an older brother that also plays so I became the foursome and I would just go out and play or they gave me the option to color or do whatever in the car. But that was always such a fun family activity. But then eventually I started getting competitive probably around 10 years old, I started taking lessons. And really from that point, my parents pushed me, all parents tend to push their kids so that's pretty normal but they were pushing me to be the best that I could and because of that, I became so competitive and wanted to win all the time in which I started doing. In Colorado Junior Golf, they have a great program both for boys and girls which is really awesome.

Jennifer Kupcho

But I think one of the biggest things during that time was I was so good that it came to a point where at the tournaments, there was both junior boys and girls and everyone just looked down on me because I was so good. And that was probably one of the hardest things for me to overcome was because I didn't really have friends growing up, and because of that, it was so hard for me to fit in when I was playing well. And eventually that obviously changed and now I have a bunch of friends out on tour and had a bunch of friends in college. And even those junior players that I was growing up with, we go out and play all the time now. But I think having to overcome that part of, "Oh, she's so good. We don't want to be friends with her," was really hard for me. But even now to this day, I've had hardships in every part.

Jennifer Kupcho

Getting through Colorado to get to a top college was really hard for me because I didn't have the resources and money to be able to play junior golf all around the country. So that was one of the hardest things as well. And now to be on tour, all that hard work and overcoming everything that I've been through has definitely been worth it.

Maria Taylor

Well, Let me ask you then Jennifer, it sounds like it was obviously a very tough road. Who were the advocates or the role models that you had during some of those times that made you still believe, "I know that I can compete at the highest level. I know that one day I could do something like win the Augusta National Women's Amateur." Because there has to be someone in your corner that is constantly reminding you of something like that.

Jennifer Kupcho

Yeah. And I definitely had different role models throughout every step. I would say the ones that have been there all along is my brother and both of my parents. We're all really close and we're all encouraging towards each other for everything. But then definitely once I got to college, I definitely had a rough freshman semester and was trying to get my place at college and wasn't playing as well as I wanted to. And I actually had Laura Diaz who is a past LPGA player and went to Wake Forest. Her husband was my coach and she really just reached out to me, and went and played with me, and kept encouraging me and really treated me like I was her own kid and that was a super big help to me as well.

Maria Taylor

I feel like, and we heard Andrea kind of talking about it too, it's about advocates, it's about the people who you kind of surround yourself with. But Shasta, the same question I want to hear from you, when you hit an obstacle or a roadblock, who were you turning to in those moments?

Shasta Averyhardt

So I turn to my dad a lot. So both my parents are very involved in my life, but my dad and I are really close just because of golf. And when I have an issue or I call him and I talk to him, he's always able to, release some heightened emotions, right? So he's able to calm me down and just kind of put things in perspective. And then we just look at, "Okay, how do we navigate? How do we get past this?" And that's really important because sometimes it's hard. Sometimes you feel defeated and you feel like you just want to give up. And there's just moments where you do need somebody in your corner even if it's one or two people to tell you "You can do it." And Jennifer said, you got to keep pushing and you can get past it.

Maria Taylor

Andrea, I want to bring you back in one more time because I feel like every time you drop a little bit of knowledge and advice on us, it's pretty incredible. But in the moments of defeat, how do you handle it?

Andrea Smith

Well, as Shasta and Jennifer said, I think you handle it with grace and with dignity and you pick yourself up and you get back in the game, whatever that is. And you can't let failure define you. Instead, you've got to learn from it and move on. And one of my biggest role models growing up was my grandmother. And to the point Shasta was making earlier and Jennifer too, we didn't have any money, we didn't belong to a country club, but I would go out golfing with my grandfather and I was terrible. I didn't have the skills that you ladies do but I enjoyed it and I enjoyed being out there. And my grandmother always said, "Just give it your best shot and you're going to fail. Don't enter the situation thinking everything's going to be perfect and be prepared for it. But the quicker you pick yourself up, the quicker you learn from it, and the quicker you move on and share your learnings with others, the more successful you're going to be."

Andrea Smith

And just as you look at the progress and what you all have done with golf and the impact you've had, I was looking at it from a business perspective because back to when I came to the bank and it was really male dominated. The guys would always leave to play golf on Friday afternoon or Wednesday afternoon or whatever day it may be. And I kept saying, "Wait. Well, I'd like to go." And they said, "Well, why don't you go shopping?" I'm like, "I don't even like shopping. I don't want to go shopping. I want to play golf." Well, everyone's probably a lot better. You can out there and these guys are not that good. I mean I was just out there the other day, shot a 111. I'm like, "That's not even legal. You got to cap your score dude." But there's this thing. And so to both of Maria and Jennifer's point, you need people around you that are going to give you confidence on the days you don't have it and put you back in there.

Maria Taylor

I feel like we just need to all go to a golf course somewhere and be able to go play. That's what this is all going to come to, this conversation.

Shasta Averyhardt

I love that.

Maria Taylor

It's meeting on a golf course somewhere and having this conversation, right?

Andrea Smith

I think that'd be awesome. And you can give me some tips. I'm wide open for feedback.

Maria Taylor

Same.

Andrea Smith

I'll take the feedback and I'll do it right away.

Maria Taylor

Okay ladies. We do have some video questions. We're going to be taking questions from the Augusta National Women's Amateur field. Jennifer, the first question is going to be for you. And it's from Aneka Seumanutafa, and she goes to Ohio State, she is a student athlete there. So take a listen.

Aneka

Hi Jennifer. What's the differences between your college career and your professional career?

Jennifer Kupcho

I would say the biggest difference is how much I'm playing. In college, you have five or six events in the spring season, which compared to now, I'm playing one every week so that's the biggest change. Is having to figure out your time management and how to rest your body and what you're going to do to prepare for the week when you're playing week after week for the whole year. Pretty much about eight months of it. It's definitely a lot of hardships out on the course in trying to get yourself ready.

Maria Taylor

Great advice, Jennifer. The next question is going to be for Andrea. And this is from Siyun Liu who was an athlete at Wake Forest.

Siyun Liu

Hi Mrs. Smith. Thank you for supporting ANWA and joining this panel. My name is Siyun and my question for you is, as a female and a C-suite in the banking industry which is largely dominated by male, what is your take on the current gender disparity in pay in professional golf? And what do you think we can do to minimize that pay gap?

Andrea Smith

Well, that is a great question and something that we've really tackled in the financial services industry. I'm happy to say that women in the same job as men get paid 99 cents to the dollar. So we've really tried to close that pay gap. I think we'd have a lot of work to do in golf and sports and the way that I think we can overcome this and continue to make progress is by all putting our voices together and demanding change. And I think that we've seen progress happen. And the more we do that, I think the more we'll see.

Maria Taylor

The way that we're going to end this is rapid fire questions. Okay? Because we got to have fun. We got to prepare for the round of golf that we're obviously all going to be playing together very soon. I want to start this with Jennifer, then we're going to go to Shasta, and then we're going to go to Andrea. Okay? So let's start out with, what is your mantra, your life mantra?

Jennifer Kupcho

Onward and upward. I always face difficulties out on the course and I always take the difficulties, learn from them and then move forward.

Shasta Averyhardt

Mine is the universe has your back. I always feel that when I'm in a position where I'm needing something or something needs to happen, it seems like if I just put it out there and say what it is I need, somehow the universe conspires and gets it together and presents it to me. And then I wholeheartedly believe in that.

Andrea Smith

And I would say mine is be authentic and leave it all on the field. And I've seen that over time people that aren't authentic or try to be something that they're not, it never worked out. And at the end of the day, I always want to be able to look at myself in the mirror and say, "I did the best I could and I left it all out there."

Maria Taylor

I wish I had a notebook and I was taking notes on this. The universe has your back. Okay. Be authentic. I'm going to try to remember all these things, ladies. Next question is the super power you would like to have. Again, Jennifer, we start with you.

Jennifer Kupcho

Invisibility. I don't know why I've just always wanted to be able to listen in on conversations and just be where people wouldn't see me.

Shasta Averyhardt

I love Jennifer's. I would love to fly because I get so irritated in the airport around all those people, that I'd love to just be able to fly to my location. Not have to worry about all that.

Andrea Smith

If I had a super power, I would like to have a healing superpower. I would like to heal everyone from cancer or COVID or mental health or anything. I just see so much pain right now and if I can do that, I think that'd be fabulous.

Maria Taylor

Oh, Andrea. Just touch all of our heartstrings. Okay. The last question I have, obviously it has to be golf related. So besides Augusta National, what is your favorite course? Jennifer.

Jennifer Kupcho

Sycamore Hills in Indiana.

Shasta Averyhardt

Bayonne Golf Club is, I think it's in New Jersey. Yeah.

Andrea Smith

Well, mine's right in my backyard, Quail Hollow Club and I would like to host all three of you to come play with me.

Maria Taylor

And we would fully accept that offer. Obviously, Andrea, we're totally down. And Andrea I also just want to give you the last word to sum up the relationship between golf and being able to put yourself in a position that could break the glass ceiling or where you see this game going for girls and women. And just your final thoughts here on the conversation that we've been able to share today.

Andrea Smith

Well, I will say just as it relates to Quail Hollow, I was the fifth woman member there, so breaking another glass ceiling. I think they're everywhere and we've got to bust through them together. I feel so much progress has been made. I feel like the women on the... You, Maria and Jennifer and Shasta, just the collective power that you each bring to what you do every day, don't underestimate it. And together, I think we are here now. People are listening. This is the time for change. This is a movement, not a moment. And it's not time to be quiet. We need to keep our voices raised. And that makes me feel really confident in the next generation.

Maria Taylor

Thank you so much, Andrea. And ladies, it's been an absolute pleasure. I mean, just great to have this conversation and celebrate the end of Women's History month but the beginning of the second, Augusta National Women's Amateur. I couldn't be more excited to watch these ladies compete. Jennifer, Shasta, Andrea, continue to wield that power, continue to drive the game forward and continue to be the leaders that you are because we are all thankful and we are all better because of you. So again, enjoy the event. It tees off tomorrow and make sure you're all watching because we will be.

Andrea Smith

Thank you.

Jennifer Kupcho

Thank you.

Shasta Averyhardt

Thank you.
© 2021 Bank of America Corporation. All rights reserved.

ESPN Host Maria Taylor speaks with 2019 Augusta National Women's Amateur champion Jennifer Kupcho, 4th African-American Golfer on the LPGA Tour Shasta Averyhardt, and Bank of America's Chief Administrative Officer Andrea Smith about their boundary-breaking careers. Watch the video to learn about their experiences, insights, and hopes to inspire the next generation.
[Music]
[On screen text] Female athletes receive only a fraction of the coverage that male athletes get.
[On screen text] Turning entire careers into fleeting moments
[On screen text] Like this
[Rapid on screen text of Jennifer Kupcho's accomplishments & milestones]
[On screen text] Young girls can't be what they can't see.
[On screen text] That's why the Augusta National Women's Amateur is changing the game.
[Footage of Jennifer Kupcho]
[On screen text] Because one shot
[Crowd roar]
[Announcer VO] A champion's finish for Jennifer Kupcho!
[On screen text] can inspire a generation
[End card] Augusta National Women's Amateur and Bank of America Presenting Partner logo lockup
© 2021 Bank of America Corporation. All rights reserved.

"Milestones"
Female athletes receive only a fraction of the coverage that male athletes do. But young girls can't be what they can't see. That's why Bank of America is proud to support Augusta National to spotlight female triumph.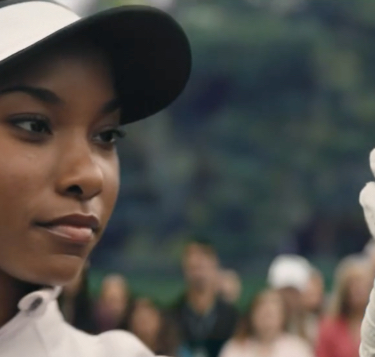 Investing in women
Bank of America's investment in women as they make meaningful contributions within the company and in communities around the world includes a focus on being a great place to work for its female employees, improving the financial lives of female clients, and advancing women's economic empowerment worldwide. The company has several long-standing partnerships, including our support of Vital Voices, the Tory Burch Foundation, the Cherie Blair Foundation and Kiva and created the Bank of America Institute for Women's Entrepreneurship at Cornell. Through these partnerships we have helped more than 30,000 women from 85 countries grow their businesses.